The Best Smartphones Ranked
Here are the best phones on the market right now.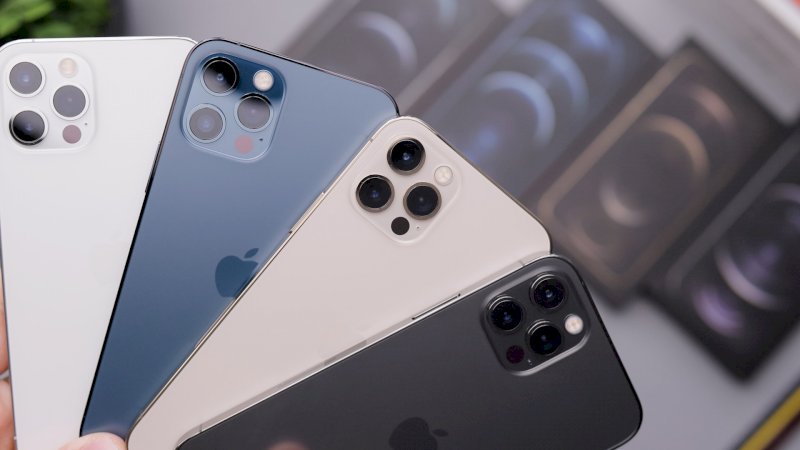 1. iPhone 11
The best phone for people who don't want to spend a bundle, the iPhone 11 has killer dual cameras and a cheaper price than the iPhone 11 Pro. For a very reasonable $699, the iPhone 11 offers amazingly good low-light photos via its Night Mode, and there's a new ultra-wide lens that lets you fit in more subjects or scene with its 120-degree field of view. Selfies get a serious upgrade, too, with a 12-MP camera that automatically switches to a wider view when you turn the phone to landscape mode.
The 6.1-inch LCD on the iPhone 11 isn't OLED-great, but it's colorful and bright. A blazing A13 Bionic processor, long battery life and your choice of six colors solidify the iPhone 11 as a winner.
2. OnePlus 8 Pro
The OnePlus 8 Pro is a fantastic value because it packs so many features into a phone that costs less than any of Samsung's new Galaxy S20 phones. You get performance that can match any leading phone and a gorgeous display with a fast 120Hz refresh rate for ridiculously smooth scrolling. Even better, OnePlus doesn't force you to downgrade resolution for that 120Hz rate the way recent Samsung phones do.
Opting for the fastest refresh rate can reduce battery life, but set the screen refresh rate at 60Hz and you can expect more than 11 hours of battery life — well ahead of what the average smartphone can pull off on our battery test. The OnePlus 8 Pro becomes the first OnePlus phone to support wireless charging; even better, it's the fastest wireless charging we've ever seen.
Other phones sport more capable cameras, but the OnePlus 8 Pro four rear lenses performed capably in our tests, sometimes producing results that match what the best camera phones have to offer. If you want a great Android device, the OnePlus 8 Pro is proof you don't need to spend more than $1,000 to get it.
3. iPhone SE 2020
The iPhone SE 2020 finishes on the podium of our list of the best phones because it delivers exceptional power for under $400. The A13 Bionic chipset inside the new iPhone SE is the very same one you get in the iPhone 11 and iPhone 11 Pro. It's a rare feat to see a flagship processor inside a device that is so inexpensive, and it makes the iPhone SE far and away the finest value in the budget phone segment.
But it's not exclusively about that wicked-fast CPU. The latest baby iPhone also has a solid single-lens 12-megapixel camera, wireless charging, IP67 water resistance and premium build quality. The tradeoff to that is the SE's very dated design, owing to its iPhone 8 roots — though Touch ID loyalists and users who find themselves pining for a more compact handset may be able to overlook that in favor of everything else the iPhone SE offers.
4. iPhone 11 Pro Max
The iPhone 11 Pro Max has vaulted past the Android competition to become the top camera phone, thanks to a new Night Mode for much better photos in low light and a versatile ultra-wide lens. Plus, improved Smart HDR gives you superior portraits. Apple has upped the ante on video quality, too, with extended dynamic range and smooth cinematic stabilization.
The iPhone 11 Pro Max also offers the fastest processor yet with its A13 Bionic chip, a more durable design and a 6.5-inch OLED display so bright that it makes other phones look dingy. We wish Apple offered more than 64GB of storage, but once you add in nearly 12 hours of battery life, fast charging and more immersive audio, you have the nearly perfect smartphone.
5. Moto G Power
If you want the best phone for staying charged up all day long, get the Moto G Power. This budget phone from Motorola makes the most of its massive 5,000 mAh battery, enduring for more than 16 hours on our battery test, in which we have a phone surf the web over LTE until it runs out of juice. That improves on the previous record-holder — this phone's predecessor, the Moto G7 Power — by more than half-an-hour.
You don't have to pay big bucks for that kind of battery life. The Moto G Power costs just $249, which is even cheaper than Apple's iPhone SE. You will make some compromises though like an LCD screen instead of an OLED panel and a hefty 7 ounce weight.
Still, the Moto G Power's performance and camera keep pace with other phones for its price range, and it even manages to include triple cameras (though not a telephoto lens). All told, it's a pretty polished phone for less than $300, and you'll never have to worry about finding a place to plug in.
6. Google Pixel 3a
The best Android phone for those on a budget is the $399 Google Pixel 3a. You'll enjoy great shots in low light and very impressive portrait effects driven by computational photography. Yes, you get a less powerful processor and less polished materials than pricier flagship phones. But Google's cheaper phone lasts longer on a charge, too, holding out for nearly 12 hours on our web surfing battery test. That makes the Pixel 3a a real bargain. The best part? You can often find the Pixel 3 on sale for under $350, so it pays to comparison shop.
The Pixel 4a is rumored to be launching this summer with even better specs and performance. However, if you're looking for the best cheap Android phone right now, the Pixel 3a will not disappoint, especially since you can get very good discounts.
7. Samsung Galaxy S20 Plus
Samsung has three strong phones in its Galaxy S20 lineup, but the Galaxy S20 Plus is the one that places highest on our best phone list, because it offers the best overall mix of features for the money. You get a gorgeous 6.7-inch display with a silky smooth 120Hz refresh rate, 5G connectivity and fast Snapdragon 865 processor, plus relatively long battery life (at least in 60Hz mode). The only features missing compared to the higher-end Galaxy S20 Ultra are a 108MP camera and more powerful Space Zoom — trade-offs most people will be willing to make to save $200 by opting for the $1,199 Galaxy S20 Plus.
That's especially true since the Galaxy S20 Plus boasts some pretty impressive cameras in its own right. The new sensors capture bright and colorful photos, and the 3x lossless zoom is more powerful than what the iPhone 11 Pro Max delivers. The regular Galaxy S20 plus is a good choice at $999, too, if you prefer a smaller display. But if you want a big screen and future-proof 5G for years to come, you're going to love the Galaxy S20 Plus.
8. OnePlus 8
The OnePlus 8 might not offer the slick, superfast wireless charging of its pricier sibling, the OnePlus 8 Pro — though it's still a compelling Android phone in its own right. That's largely because it has the very same Snapdragon 865 processor, along with a dazzling 90Hz display and a compelling design that comes in lots of eye-catching colors.
If we had one gripe about the OnePlus 8, it'd have to be the phone's disappointing triple-lens camera system, which simply doesn't capture photos as sharp and colorful as those from the firm's more premium device. That said, if you can excuse images that look good but perhaps not great, you'll find a lot to like from the OnePlus 8.
9. Samsung Galaxy S20 Ultra
Samsung spared no expense with the Galaxy S20 Ultra, which manages to pack in an impressive array of premium features — from a vast 6.9-inch display capable of a 120Hz refresh rate to 5G compatibility and a massive 5,000 mAh battery. Still, it's the cameras that impress with the Galaxy S20 Ultra.
The quadruple camera array on the Galaxy S20 Ultra is highlighted by a 108MP wide angle lens and 48MP telephoto shooter. That latter feature can produce a 10x lossless zoom that really captures detail at a distance, and the digital zoom up to 30x is very good. The end result is a camera phone that can compete (and sometimes beat) the iPhone 11 Pro.
The Galaxy S20 Ultra starts at a pricey $1,399, and that assumes you're satisfied with the 12GB of RAM and 128GB of storage in the base model. Still, the Galaxy S20 Ultra is a testament to just how much power companies like Samsung can pack into a smartphone.
10. Samsung Galaxy Note 10 Plus
The Samsung Galaxy Note 10 Plus is the best phone if you want the biggest display possible. This flagship sports a ginormous 6.8-inch OLED display that's truly immersive, and you can now do more with the S Pen, including Air gestures and convert your handwriting to text. The phablet lasted nearly 12 hours on our battery test, and it charges fast, reaching 65% in 30 minutes. The Note 10 Plus' four rear cameras take crisp photos and Samsung added Live Focus effects for video, so you can now get bokeh with your clips. But the still photo quality isn't quite best in class based on our comparisons; the Pixel 4 has an edge among Android phones.
You'll soon have a cheaper alternative to the Note 10 in the Galaxy Note 10 Lite, which has a massive 6.7-inch Super AMOLED display, a headphone jack, a triple-camera array and a huge 4,500 mAh battery. But if you need some of the best performance and battery in a phablet, the Note 10 Plus is still well worth the premium.